Rockin Geoff Robinson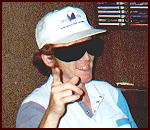 Mr. Robinson's previous employment experience include several months spent as an Air Traffic Controller for "Manana Air Express". (when it absolutely, positivley has to be there sometime next week, maybe, if we don't leave it on a wing) Unitl a slight scheduling snafu (resulting in the largest cole slaw ever created) resulted in the management requesting that Mr. Robinson "utilize his talents elsewhere".
Mr. Robinson has previously worked in the service industries, including three weeks as a barber in a Kansas City funeral home.
Mr. Robinson likes to relax with his friends. Last winter, Mr. Robinson spent some time in Mexico with Mr. Pedro Gonzalez Gonzalez in search of "Perfect Taco" and battling his current addiction to pure arabica, french roasted 103 octane rocket fuel. (coffee)
Mr. Robinson's main claim to fame is the fact that he has been a Musician/Singer/Songwriter and that NO ONE knows who the heck he is.
You are visitor number #