Doctor Don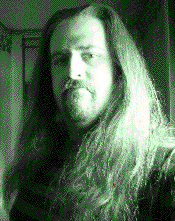 To begin, Don personally likes to think he is useful in society, granted his useful slogans like, "Come in and smell my toilet" have yet to be common household greetings. However, this has not discouraged Don from being successful in life.
To begin, we will start with the basics: Born as Donald G. Duffney, September 22, 1970 in Wurtzburg, Barvaria, Germany. Resides in the small town near Saratoga Springs, NY where he has been since 1971.
Graduate of Corinth Central Schools, Class of 1990, attended Herkimer County Community College (1991), and Adirondack Community College (1991-1993). Hosted popular local radio show (1994-1998) (along with Tassh T. Toth, Geoff D. Robinson, and Mike Booth)
Believes that government is corrupt and that we should end the lame bi-partisan politics that more or less accomplishes nothing except mud throwing and politically correct insults.
The doctor has retired from radio (May, 2000), and seldom makes public appearances. (last public appearance was Aug 2000 at stemstock) Currently the doctor has spent time exploring the mountains where he has lived for many years, and on occasion travels to senic places to be with one with nature, and the beauty that can not be blemished. The doctor continues to fight the world, but in a battle where maybe one person might make a difference, paying no regard to the opinions of others.
Last but not least, If you are gonna lose, then at least lose with diginity. Being yourself is all that really matters, regardless of what those morons really say.
(photo below: Lake george polar club "where the doctor once took part from 1991-2000")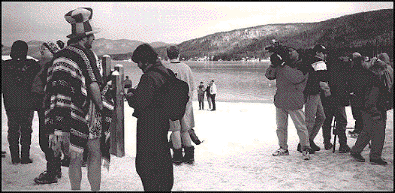 Photo: Don being interviewed by a local magizine and being videotaped by a Korean news crew that was present at the 1997 Lake George Polar bear swim on Lake George (January 1, 1997)
You are visitor #